Sponsored Video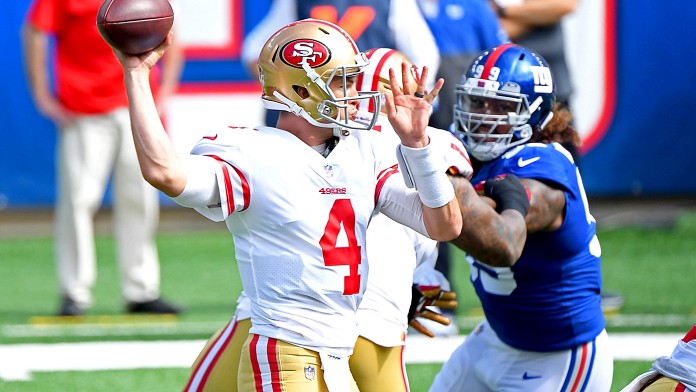 Even though
Nick Mullens
played well enough during his 2018 stint as the 49ers starting quarterback to prove he undoubtedly had a promising NFL future, there was still some uncertainty over how he'd play while filling in for
Jimmy Garoppolo
against the New York Giants on Sunday.
But, as Mullens showed during his team's dominant 36-9 victory over the Giants, any doubts anyone may have had about his ability to step in and lead the team to a win were completely unfounded.
Mullens had a number of good moments during his time as a starter over the second half of the 2018 season while Garoppolo was sidelined with a torn ACL. He finished that season with three wins in eight games, 2,277 yards passing, 13 touchdowns, and 10 interceptions — a performance good enough to leave some wondering if he might push for the starting job in 2019 if Garoppolo was unable to bounce all the way back from his injury.
But Garoppolo stayed healthy throughout 2019, which meant Mullens spent almost all of last season on the bench. Mullens' first meaningful game action since 2018 didn't come until he entered last week's 31-13 win over the New York Jets after Garppolo suffered a high ankle sprain, and he finished with a somewhat uninspiring stat line of 71 yards and one interception on 8 of 11 passing.
So, what would Mullens do against the Giants this week? It was a good question coming into the game — one he answered emphatically by throwing for 343 yards and one touchdown on 25 of 36 passing.
"Nick was great," said 49ers head coach Kyle Shanahan after the win over the Giants. "He was very poised. We went on a lot of long drives today, which they're better than not scoring, but the long drives can get a little bit exhausting, especially for me. I don't want to have to call that many plays. But Nick kept his composure."
Mullens was by no means perfect against the Giants, especially during the first half when he and the offense were moving the ball with effectiveness but didn't reach the end zone until late in the second quarter. In the second half, however, Mullens took a 16-6 halftime lead and helped break it open by hitting on 11 of 12 of his passes after finishing the first half 14 of 24.
"We were moving the ball pretty good but we kind of got some second-and-long situations and had to overcome a lot of stuff to keep it going," Mullens said after the win. "In the second half, those field goals turned to touchdowns, which was huge."
There may have been those who felt Mullens showed more zip on the ball against the Giants than he did in 2018. Shanahan isn't one of them, but he does believe Mullens has improved in other ways, which he was able to show on Sunday.
"It's not a big difference to me," Shanahan said. "He's improved in a lot of areas since his first year. Regardless of his arm strength, he can make every single throw we need him to make. He did a hell of a job of it today. His arm strength with his preparation and everything, that's why he gets the ball in the right spots. When he sees it, he lets it rip. Not only did he execute a lot of stuff today, he made a number of off-schedule plays too."
Mullens told reporters after the game he felt confident after a strong week of preparation and was able to capitalize on his opportunities without hesitation, just as Shanahan said.
"It's kind of what you have to live by… I'm not the fastest, most athletic guy, but I think I can react pretty quick," Mullens said. "That's what I think I do pretty well."
Garoppolo's situation will likely continue to be one that gets monitored on a day-to-day basis, meaning he could be back in the lineup when the 49ers face the Philadelphia Eagles at Levi's Stadium in Santa Clara next Sunday (5:20 p.m. PDT). But Mullens showed there might not be much to worry about if he has to hold down the fort for at least another week, which is something his teammates already knew.
"Nick is who he always is," offensive tackle Mike McGlinchey said after the win over the Giants. "He was a great force for us today. He took command all week, starting from Wednesday on, and he goes out and balls. That's who he is. We're very, very confident in his abilities, his understanding of what we do. He's been in our system for a long time and he's had success when he's been in there."
Quarterback Nick Mullens started against the New York Giants in place of an injured Jimmy Garoppolo. It is Mullens' ninth career start, with his first eight coming in 2018 after Garoppolo suffered a torn ACL. Mullens currently has 231 passing yards against the Giants with San Francisco leading 23-9 in the third quarter. That total puts the fourth-year quarterback in some legendary company. Mullens has become the first 49ers quarterback to throw for 220-plus yards in nine straight starts since Joe Montana did so over the 1985 and 1986 seasons. San Francisco signed Mullens as an undrafted free agent out of Southern Miss in 2017, and the quarterback spent his rookie season on the practice squad. Mullens' 2,277 passing yards in 2018 were the
It will be Nick Mullens at quarterback on the MetLife Stadium field when the San Francisco 49ers face the New York Giants on Sunday. Head coach Kyle Shanahan made the announcement on Friday morning during an interview on KNBR. "I don't think we've ruled [Garoppolo] out, but I can on you guys' radio show, I guess," Shanahan said. "Jimmy's not going to be playing, so Nick's going to be good to go. He's got all the reps this week, and he's fired up." Starter Jimmy Garoppolo has not practiced this week and isn't expected to do so on Friday as he continues to recover from a high-ankle sprain suffered this past weekend against the New York Jets. Shanahan said the offense wouldn't change for Mullens. It will just be a different guy running his
The New York Giants are set to host the San Francisco 49ers at MetLife Stadium in East Rutherford, New Jersey on Sunday, September 27 at 10:00 a.m. PT. Each week, the 49ers Webzone staff predicts the winner within its annual NFL Pick 'em contest. That includes writers and forum moderators. All 10 participating staff members selected quarterback Nick Mullens and the 49ers to beat the Giants. San Francisco is currently a 3.5-point favorite. Mullens will start in place of an injured Jimmy Garoppolo. As for all the fans who are taking part in our NFL Pick 'em contest, 94