Sponsored Video

The feud between Candace Owens and Cardi B is reaching bitter heights as the conservative pundit has boasted she has "broken" the "WAP" rapper.
The two women became embroiled in a Twitter spat Monday over their opposing political views, with their arguments escalating personal insults on the social media platform.
Owens called Cardi "dumb and illiterate" while the rapper said she feels sorry for the Donald Trump supporter.
After a whole series of tweets and Instagram videos later, Owens has taken to Twitter to brag that she has "broken" Cardi B.
Newsweek subscription offers >
"She is still tweeting about me. I broke @iamcardib," she tweeted alongside a photo of her face photoshopped over Michael Jordan overpowering Cardi with a slam dunk.
Owens, 31, appears to be referring to tweets by Cardi posted Monday night.
Cardi, whose real name is Belcalis Marlenis Almánzar, tweeted: "This what PANDERING looks like .I will never praise no politician not even Obama,FDR or Bernie ONLY THE LORD !This is how Trump panders with black people while Candice concerns how Joe panders with me."
Newsweek subscription offers >
She shared a photo of Trump surrounding by Black people who appear to be praying for him.
Per Reuters, the photo in question is from February 2020 and is of African-American supporters, including Terrence Williams, Angela Stanton and Diamond and Silk, praying with the President in the Cabinet Room of the White House.
The drama started when Owens, took part in an interview with another conservative pundit, Ben Shapiro, where she slammed Democratic nominee Joe Biden for taking part in an interview with Cardi B (real name Belcalis Marlenis Almánzar) last month for Elle magazine.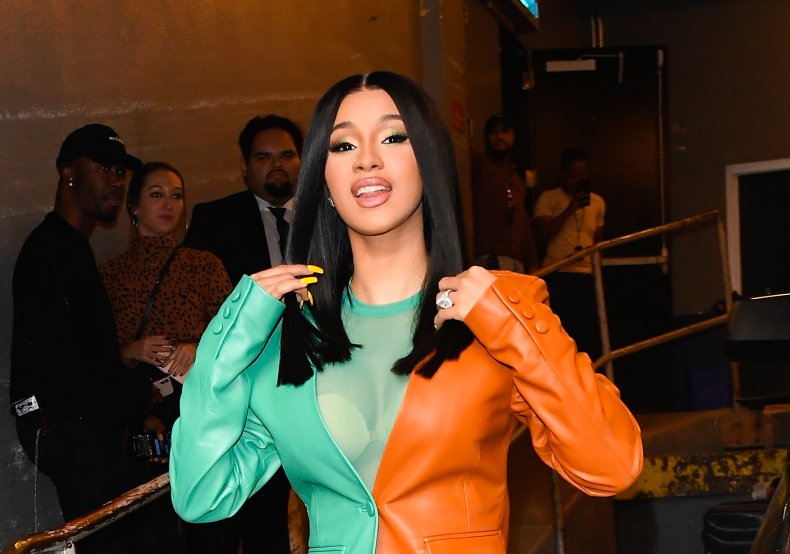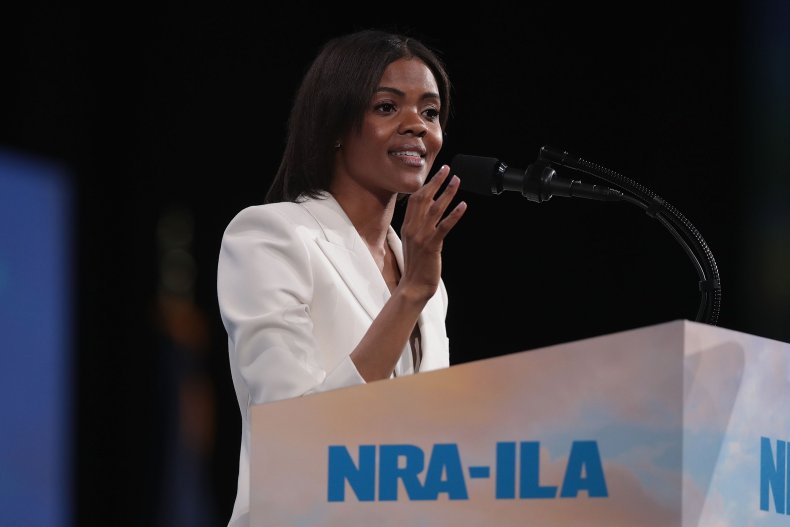 "It is one of the biggest insults. If black Americans are not insulted by the fact that Joe Biden, who has been hiding in his basement, you know, for the entire year, made an appearance to come out because he was going do an interview with Cardi B. Do we have nothing better to offer?" Owens says of in the interview in the clip she shared to Twitter.
She added: "[Joe Biden], you are pandering. You look at Cardi B's Instagram, and you see she has millions of followers, and you think, 'OK, this is an illiterate person, and if I appeal to this illiterate person' … 'They think she's cool.'"
Cardi clapped back at the idea that she was being used by Biden to cater to Black voters and shared a video of her sister Hennessy Carolina and her girlfriend involved in a verbal altercation with "Trump supporters" during a recent trip to the Hamptons "all because they are a Afro/Hispanic gay couple."