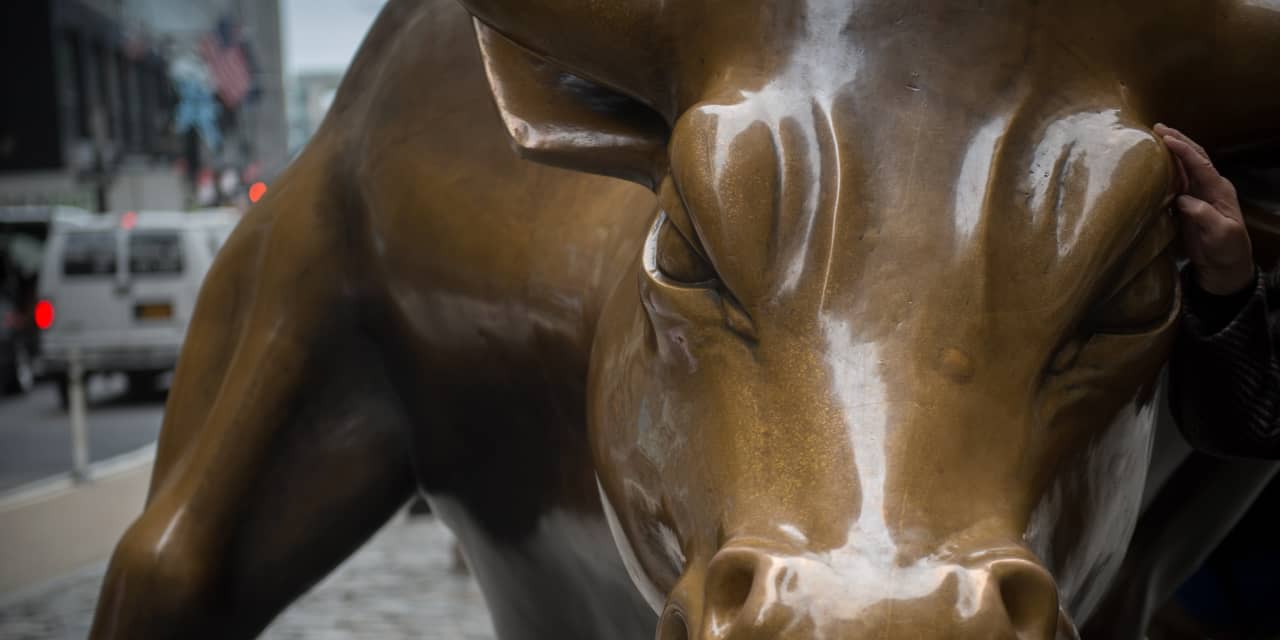 U.S. stocks fell Monday after the S&P 500 and Dow momentarily touched intraday record peaks, with investors facing concerns around the spread of COVID-19 and the slow pace of the vaccine rollout.
How are stock benchmarks trading?
The Dow Jones Industrial Average DJIA, -1.79% fell 531 points, or 1.7%, to 30,079, after touching an intraday high of 30,674.28.
The S&P 500 SPX, -1.89% was off 57 points, or 1.5%, at 3,698, after rising to as high as 3,769.99.
The Nasdaq Composite Index COMP, -1.92% slipped 175 points, or 1.4%, to 12,713.
To end 2020, the markets finished at or near records: The Dow added 1.4% in the final week of the year, 3.3% in December, 10.2% in the fourth quarter and 7.3% on the year. The S&P 500 rose 1.4% for the week, 3.7% in December, 11.7% in the fourth quarter and gained 16.3% for the year.
The tech-heavy Nasdaq Composite Index saw its best annual return since 2009, rising 43.6% in 2020, aided by a 0.7% rise in the final week of 2020, a 5.7% in December, and a 15.7% in the final three months of last year.
What's driving the market?
Markets were under pressure amid concerns around the toll of COVID-19 in the first trading day of the year.
The global tally for confirmed cases of the coronavirus that causes COVID-19 rose above 85 million on Monday, according to data aggregated by Johns Hopkins University, while the death toll rose above 1.8 million. Some experts warned that the COVID data could be undercounted because staffing at many centers is reduced.
The rapid spread of a variant of the deadly pathogen that was first reported in Britain also has caused some cause for concerns among public health experts but the market thus far has not dramatically reacted to the mutation of COVID-19. New aggressive variants in South Africa also raised anxieties.
"The parabolic rise in new cases seems to be leveling off, a sign that perhaps the fall surge is running its course. But the economic impact will remain for a few more months at least," said James Meyer, chief investment officer at Tower Bridge Advisors.
But Meyer also said he expected markets to look past the pandemic's toll and eye the distribution of COVID-19 vaccines, which has come under scrutiny as the pace of the rollout has fallen short of earlier forecasts.
U.S. vaccine czar Moncef Slaoui on Sunday said that the U.S. could increase its vaccine rollout by giving out half doses of the medication developed by Moderna MRNA, +5.89%.
Wall Street also is keeping an eye on Georgia's as runoff elections in which two U.S. Senate seats have the potential to inject fresh volatility into markets, particularly if the outcome sparks political turbulence in Washington around recent fiscal spending measures and easy-money policies out of the Federal Reserve.
Some market participants say any complacency about the runoff among investors might be misplaced, namely if Democrats win both Senate seats and help President-elect Joe Biden reverse the corporate tax cuts of 2017, which could put company earnings and stock prices under some pressure.
Read: Why the Georgia runoff elections for the U.S. Senate could turn into a 'big deal' for markets
Check out: U.S. political polarization presents biggest 'risk' to the world in 2021: Eurasia Group
Investors saw some fresh manufacturing sector data in Asia and Europe that was better than expected, reflecting improvement from the stultifying levels of economic expansion prevalent during the pandemic, according to surveys of purchasing managers for December.
In U.S. economic data, the final IHS Markit manufacturing survey for December was upgraded to a reading of 57.1, compared with an initial reading of 56.5. Construction spending rose 0.9% in November.
Investors also will watch for speeches from a number of Fed officials, including Atlanta Fed President Raphael Bostic, and Cleveland Fed President Loretta Mester, who will speak at an annual meeting on the post-pandemic economy hosted by the American Economics Association.
Chicago Fed President Charles Evans said that Fed officials shouldn't settle for just getting inflation slightly above 2% if it wanted to achieve its 2% average inflation target.
Which stocks were in focus?
Teledyne Technologies Inc. TDY, -8.12% plans to acquire Flir Systems Inc. FLIR, +19.03% in a cash-and-stock deal valued at about $8 billion. Teledyne was down 8.8%.
Health care insurer Centene Corp. CNC, +1.52% said Monday it has agreed to acquire Magellan Health Inc. MGLN, +13.01% for $95 a share, in a deal with an enterprise value of $2.2 billion. Centene Corp. shares were up 1.2%.
Dentsply Sirona Inc. XRAY, +1.68% shares gained over 1.2% after it announced its acquisition of Byte, a privately owned clear dental-aligner provider, in an all-cash deal valued at $1.04 billion.
Shares of U.K. gaming company Entain ENT, +25.28% jumped 25% after rejecting the proposed 1,383 pence per share bid from MGM Resorts MGM, -4.68% that valued the company at £8.09 billion.
Which assets are on the move?
The 10-year Treasury note yield TMUBMUSD10Y, 0.908% was flat at 0.92%. Bond prices move in the opposite direction of yields.
February U.S. benchmark crude futures CL.1, -1.81% were down 2.1% to $47.48 a barrel, while gold GCG21, +2.46% rose 2.6% to $1,944.70 an ounce.
The dollar against its major rivals fell 0.2%, based on the ICE U.S. Dollar Index. DXY, -0.05%
The pan-European STOXX Europe 600 index FXXP00, -0.60% was gaining 0.7%, and the U.K.'s FTSE 100 UKX, +1.72% rose 1.7%. The Shanghai Composite SHCOMP, +0.86% and Hong Kong's Hang Seng index HSI, +0.89% both close 0.9% higher, while Korea's Kospi 180721, +2.47% surged 2.5%.