Sponsored Video

I'm Thinking of Ending Things has now entered the Netflix charts, but not everyone has been overjoyed by the strange and surreal movie written and directed by Charlie Kaufman and starring Jessie Buckley and Jesse Plemons. In particular, they have been left confused by all the strange goings-on in the ending—the dream ballet from Oklahoma, for example, the cartoon pig with the maggots, or the final scene, when the Janitor's (played by Guy Boyd) car gets submerged in the snow.
For viewers of the Netflix movie who did not know what to make of the ending of I'm Thinking of Ending Things, things are a little more straightforward in the book the film is based on, written by Iain Reed.
Spoilers ahead…
At the end of the 2016 novel, the body of the Janitor is found, alongside a bunch of notebooks that he has been writing in this whole time. At that point, it is clear: The Janitor is Jake (played in the film by Jesse Plemons), and the story we have seen throughout the book/film is a story that he has been writing about a girl who he failed to talk to at a trivia night 30 years ago.
Newsweek subscription offers >
Viewers may remember that when asked about how they met by Jake's parents, the Young Woman (Buckley) says that they met after Jake flirted with her at a trivia night. It seems that this never happened—instead, Jake did not raise the confidence to talk to her and has spent all the years since wondering what would have happened if he had.
As such, what we have been watching over the past two hours is, more or less, a story the Janitor has been telling himself about events that happened to him decades ago. This is why, for example, the Young Woman's clothes keep subtly changing (because he cannot remember exactly what she was wearing at that trivia night) and why her name and major keep changing—perhaps he has forgotten them, or perhaps he never knew them at all, and so keeps trying different combinations to see what feels right.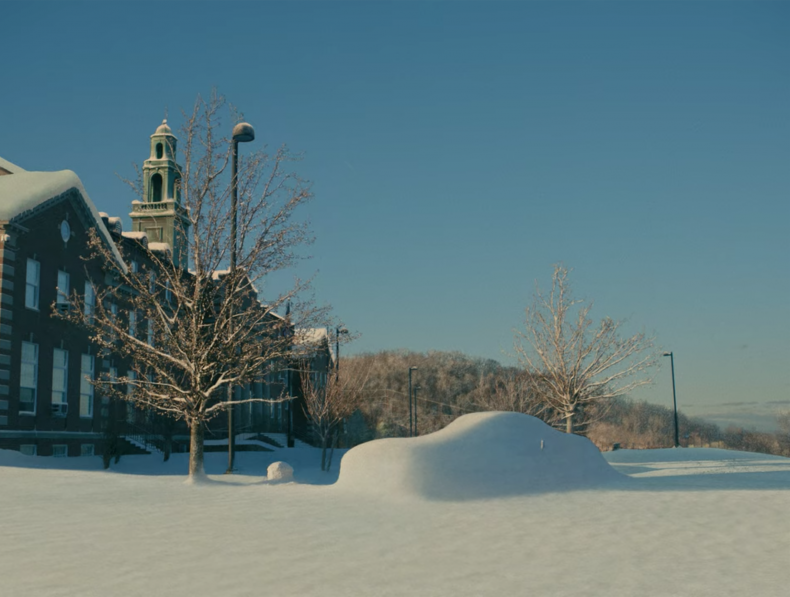 So what's happening when things get weirder, and the Young Woman comes to the high school? There seems to be two likely scenarios—either what we are watching is a dream, which the Janitor is having while asleep in his car (dreams, after all, are thought by some to be made up of elements of conscious life we have not been able to process) or a kind of mash-up of all the elements of his life, a Kaufman version of his life flashing before his eyes as he dies of hypothermia in a freezing car and sees people he has met, elements of his childhood and culture he has consumed appear in front of him.
Newsweek subscription offers >
After all, we know that all the things he sees are things that have happened in his life, from the pig with the maggots in its belly (which comes back to life as a cartoon) to the dance from Oklahoma, which we know is a musical that Jake loves as he talks about it in the car with the Young Woman at the start of the movie.
There is, however, a third option: that what we are seeing at the end is the hallucinations of a man having a psychotic break. After all, the speech we see him giving at the end is taken from A Beautiful Mind, the 2001 Oscar-winning story of a real-life mathematician plagued with schizophrenia.
Though this could just be another example of the Janitor/Jake's brain mashing up another element of his life into the dream/death hallucination (eagle-eyed viewers may have noticed that Jake owns a DVD copy of A Beautiful Mind), Kaufman has hinted that Jake's choice of this movie is crucial.
Kaufman told IndieWire: [A Beautiful Mind] does get to the meat of what the movie I made is about. This movie is dealing with somebody's experience of absorbing things that they see and how they become part of his psyche. So this was in some ways how this person might have fantasized it out."
I'm Thinking of Ending Things is streaming now on Netflix.