The NFL has penalized the San Francisco 49ers for an undisclosed violation of the offseason work rules during the team's rookie minicamp, which took place between May 14-16. Tom Pelissero was the first to report the news.
The NFL docked the #49ers the last week of their rookie development program for a violation of offseason work rules, per sources. The infraction took place during rookie minicamp.

— Tom Pelissero (@TomPelissero) June 10, 2021
The infraction was flagged based on a clip posted to social media, I'm told. Nothing out of the ordinary for football, but the rules are strict on contact, techniques, etc., in the spring. https://t.co/09k8laxMMs

— Tom Pelissero (@TomPelissero) June 10, 2021
Early speculation points to the video clip below of rookie cornerback Deommodore Lenior going against wide receiver Austin Watkins Jr. as the culprit. The video prompted Hall of Fame cornerback Deion Sanders to write, "Somebody call the police because that was AGGRAVATED ASSAULT" via Twitter.
The drills were supposed to be non-contact.
While speaking with reporters on Wednesday, head coach Kyle Shanahan didn't indicate that the team was forced to cancel any portion of the offseason program. The 49ers were scheduled to hold a mandatory minicamp next week, but Shanahan opted to cancel the remaining practices because of concerns over injuries. On Monday, San Francisco lost offensive lineman Justin Skule and safety Tarvarius Moore to serious injuries. However, rookies were expected to remain at the facility over the next week to get extra instructional work.
That won't happen now.
"We're still going to keep the rookies around here for a little bit, some more than others," Shanahan said. "I kind of decided a while ago we weren't going to do minicamp. You know, I rarely do minicamp when we get nine OTAs in. We usually do one practice, and then we have like a team-building thing throughout that. And kind of decided earlier in this, if we could get our OTAs in, I wasn't going to keep them for minicamp because it's a week longer than usual."
Added Shanahan: "You know, my plan was to get eight (practices). And I was going to surprise them on Thursday and take everyone bowling. But after our seventh practice, with those two injuries and just the aura it gave to it, I wasn't going to come back and do one more just to do one more. So I surprised them on day eight instead of day nine."
The 49ers are on break until training camp at the end of July. Players will return to Santa Clara on July 27 and return to the practice field on July 31.
Related News
More San Francisco 49ers News
Playing in Fred Warner's Shadow: Rookie Justin Hilliard May Prove to be a Big 49ers Addition in 2021
By Don Atkinson
May 31, 2021
It was just three short years ago that the San Francisco 49ers took a chance on linebacker Fred Warner in Round 3 of the 2018 NFL draft. Warner was then a well-regarded but largely overlooked outside linebacker out of BYU, and only a few teams had him in their top tier at the position. In fact, eight linebackers went ahead of Warner in the draft that year, but the 49ers saw something special in the West Coast native and brought him home with the 70th pick overall. That pick has already proven to be one of the best made by the franchise in the last three decades. You would likely have to go back to 2013 (when Patrick Willis, NaVorro Bowman and Ahmad Brooks were on the field together) to find a group of linebackers that struck much fear in opposing offenses. There
Can 49ers Trey Lance Be The First Rookie To Win A Super Bowl As Starting Quarterback?
By Marc Adams
Jun 4, 2021
As hard as it is to believe, no rookie has ever won the Super Bowl as a starting quarterback. You would think that after 55 years of Super Bowls, at least one rookie quarterback would have hoisted the Lombardi Trophy following his team's victory. But it has not happened. In fact, no rookie quarterback has even led his team to the game. None. In 55 years! A few have come close. Only three have led their teams as far as the conference championship game. In 2004, Ben Roethlisberger led the Pittsburgh Steelers to the AFC Championship Game. Mark Sanchez took the New York Jets to the AFC Championship
Frelund lists 49ers' Trey Sermon among rookie running backs who will thrive in 2021
By David Bonilla
Jun 7, 2021
NFL Network analyst Cynthia Frelund predicted which rookie running backs are most likely to thrive during the 2021 season. "Using contextualized play-calling data from each team and factoring in every rookie RB's skill set, my model believes the following five newbies will provide the biggest returns in 2021," wrote Frelund. On the list were Najee Harris of the Pittsburgh Steelers, Javonte Williams of the Denver Broncos, Travis Etienne of the Jacksonville Jaguars, and Michael Carter of the New York Jets. Sandwiched in the list at No. 3 was San Francisco 49ers rookie running back Trey Sermon. "Next Gen Stats reveal regression on San Francisco's offensive line this past season, at least in the ground game," wrote Frelund. "The 49ers averaged 4.1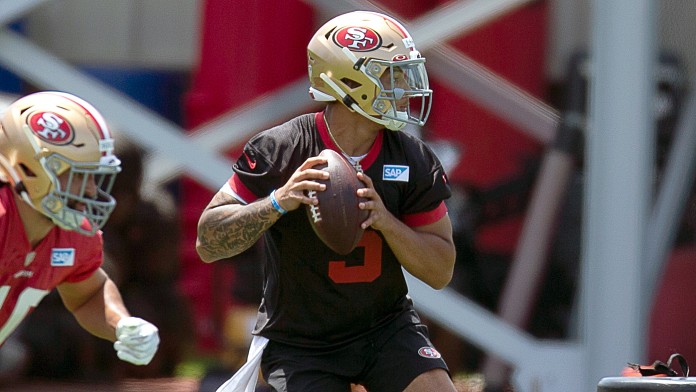 George Kittle impressed with Trey Lance, calls 49ers rookie a 'freak athlete'
By David Bonilla
4 hrs ago
San Francisco 49ers tight end George Kittle joined Michael Silver and his daughter, Natalie, on the latest Pass It Down podcast. Of course, the topic of quarterbacks came up. The Niners have Jimmy Garoppolo, who helped guide the team to a Super Bowl just over 16 months ago. But the team also planned for the future, trading up to select Trey Lance out of North Dakota State with the No. 3 overall pick. While Kittle remains loyal to his starting quarterback of the past three and a half seasons, the All-Pro tight end is impressed with his new rookie quarterback. "He's a freak athlete. It's kind of fun to watch that. It is," Kittle told the Silvers. "He's got a cannon for an arm too. That's fun to watch too. It's a different style of quarterback play, for