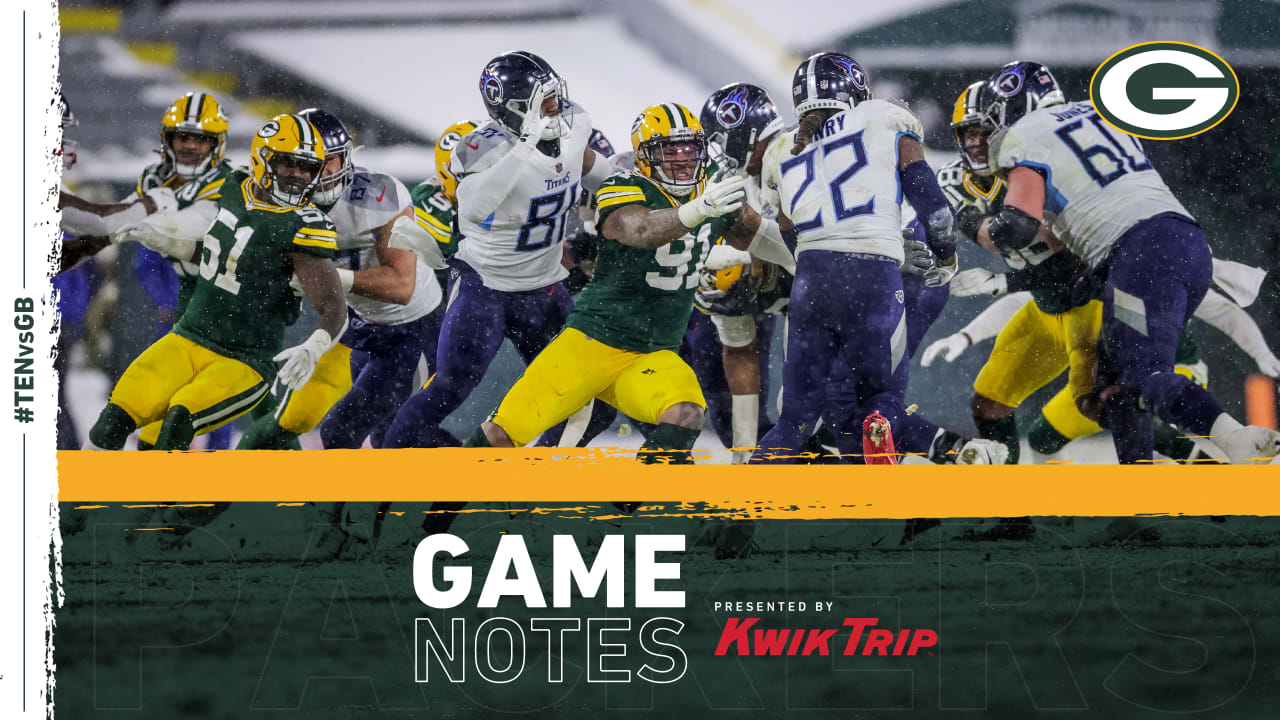 "First off, I think Mike Pettine put us in the best position to succeed today. I thought his play calling was excellent," linebacker Christian Kirksey said. "It was all about attitude and guys flying around to the ball and being in the right spot."
The Packers' plan for limiting Henry came down to three things – consistent rotations to keep defenders fresh, a heavy dose of base defense and gang-tackling.
The Packers rotated Kirksey and rookie Kamal Martin with "Mike" linebacker Krys Barnes in base. When Green Bay went to its dime defense with six defensive backs, veteran Adrian Amos played inside the box alongside Barnes.
Defensive linemen Kenny Clark and Dean Lowry continued their recent surge up the middle, while Pettine largely leaned on outside linebackers Preston Smith and Rashan Gary holding the edge. Unable to wear down Green Bay with Henry like they did against Detroit and Jacksonville, the Titans' play-action game was neutralized.
"If we could try to make this game one-dimensional and get them to try to throw the ball, we've got great edge rushers and interior guys that can get to the quarterback," Kirksey said. "We let guys just turn it loose and the ball came out and, you know, it fell into our hands, and guys got sacks here and there."
The second quarter was where the defense made its biggest stand. With Pettine dialing up a corner blitz, Gary provided just enough pressure to force Tannehill into throwing an interception to Packers safety Darnell Savage, his team-high fourth INT.
On the next series, Kirksey sacked Tannehill for a loss of seven on first down, Preston Smith batted a pass down on second and Za'Darius Smith sacked him for a 10-yard loss on third down to force a Tennessee punt.
Kirksey would go on to grab another INT in the fourth quarter after an initial pressure from Preston Smith. Tannehill finished with his lowest passer rating of the season (40.5), completing just 11-of-24 passes for 121 yards, a TD and the two INTs.
The Packers had 10 passes defensed as a whole, with Jaire Alexander and Savage each registering three. Aside from one Tannehill 45-yard TD run off a read-option in the third quarter, the Packers didn't allow a play of more than 20 yards.
And they did it by not allowing Henry to break tackles and wear down the defensive front.
"It's crazy because … I feel like we still haven't played our best game yet defensively," Savage said. "We're just continuing to keep trying to get better each and every week. Keep watching the film, try to improve stuff. But we still feel like there's a lot more out there for us to get."